Alderman Rehearses at Messiah – Concert This Sunday
We're pulling out all the Stops!
Yesterday organist Tom Alderman rehearsed for several hours on Messiah's pipe organ in preparation for Sunday's 6 PM organ concert. Alderman's recital will be the first concert of the 2015-2016 Music at Messiah Classical Concert Series and the first to feature Messiah's recently installed pipe organ as a solo instrument.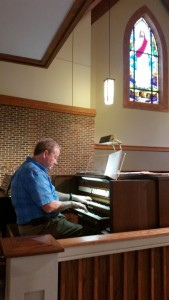 Sunday's concert will feature a variety of beautiful music well suited to both Messiah's organ and the splendid acoustics of the sanctuary which was expanded in 2012.
The organ was custom built on site by George Miller and Miller Pipe Organ Services, Inc. last summer and dedicated on Reformation Sunday, October 26th, 2014. Mr. Miller is sponsoring this concert, arranging Mr. Alderman's trek across and over the Georgia-Alabama line this Sunday after his morning worship services conclude at Roswell United Methodist Church where he is organist.
All are welcome to attend Sunday's concert. While our concerts remain free of charge, the series does take at the door and has donor recognition program. Advertisements are also available in future programs.
.