Concert Preview! Don't miss Erin McDaniels this Sunday at 4 p.m.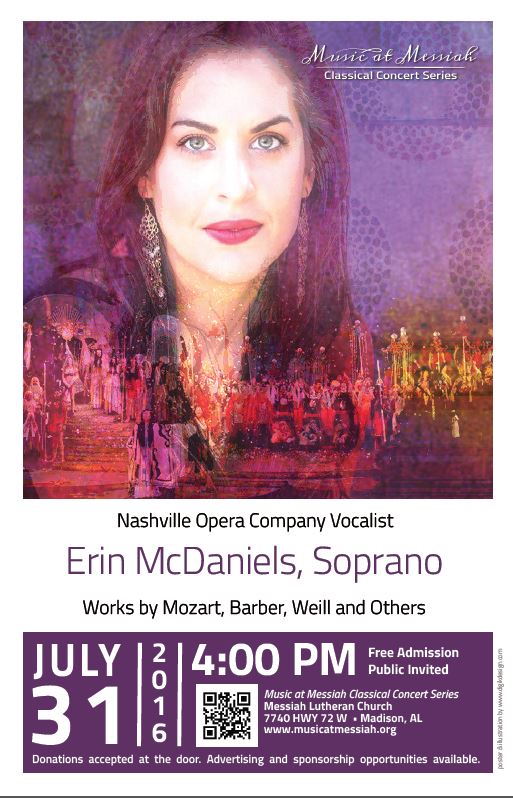 This Sunday's Music at Messiah Classical Concert will feature Erin McDaniels.  
The Nashville Opera Company soprano will be accompanied by Lois Graff on piano.
Below is a sampling of the pieces McDaniels will be presenting at Sunday's 4 p.m. concert.
The concert is free and open to the public.  Donations are gladly accepted at the door and are used directly to support the Music at Messiah Classical Concert Series. 
Les cloches  by Claude Debussy (1862-1918)
Tyndaris by Reynaldo Hahn (1874-1947)
Liebst du um Schönheit by Gustav Mahler (1860-1911)
Sure on This Shining Night   by Samuel Barber (1910-1981)
What Good Would the Moon Be (from 'Street Scene') by Kurt Weill (1900-1950)
Porgi Amor (from 'The Marriage of Figaro') by Wolfgang Amadeus Mozart (1756-1791)
Send in the Clowns by (from 'A Little Night Music') Stephen Sondheim (1930 – )
I Could Have Danced All Night (from 'My Fair Lady') Frederick Loewe (1901-1988)
There will be an intermission and reception following the performance. Messiah Lutheran Church is handicapped accessible and located 7740 Hwy 72 West in Madison, Alabama.