Nov 13 Concert – The Brophy Sisters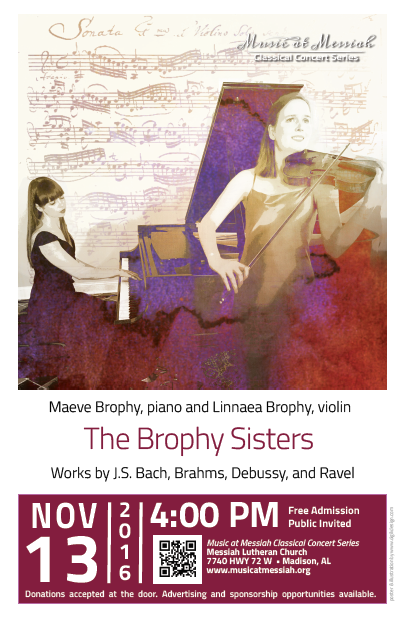 Music at Messiah's – Brophy Sisters
Performing in the next Music at Messiah concert on Sunday, November 13th are Maeve and Linnaea Brophy, a classical piano and violin duo originally from Memphis.  The sister duo have given numerous performances across the country and abroad. Maeve Brophy is a collaborative pianist based out of Nashville. She is an accompanist at the Blair School of Music at Vanderbilt University and Adjunct Instructor of Secondary Piano at Belmont University. Linnaea is a graduate student and rising star at the New England Conservatory of Music in Boston. She is the recipient of numerous honors and has performed as concertmaster in several orchestras.                                       
Please consider supporting the 2016-2017 season of the Music at Messiah Classical Music Series:
November 13, 2016    Maeve and Linnaea Brophy, violin/piano
February 26, 2017       Huntsville Chamber Chorale and Youth Chorale
April 23, 2017             Phil Weaver, classical guitar
Sponsorship forms are on our Support page.   Hard copies are also available in the office at Messiah Lutheran Church.