Parks and von Spakovsky Return September 24th for Encore Concert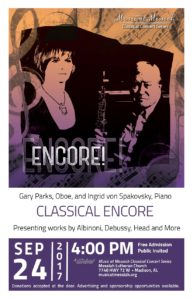 Gary Parks and Ingrid von Spakovsky are set to return to the Music at Messiah Classical Concert Series  on September 24th at 4:00 p.m.
Their first concert with the series was on Feb 16th, 2014  and featured the music of English composer, Michael Head   The upcoming concert will include a couple of selections from that concert along with several new works they have added to their performance repertoire.
The duo will be interviewed on Radio Station WLRH  (98.3) on Sept 22nd, 2017 at  11:00 a.m.  during Ginny Kennedy's "Morning Blend" radio show.
The public is invited and welcome to the concert.   Admission is free.    Donations are collected at the door.  The concert series is a self supporting music outreach activity of Messiah Lutheran Church.   Sponsorships and program advertising opportunities available.
The concert takes place in the Sanctuary at Messiah Lutheran Church,  7740 Hwy 72 W, Madison, AL 35758