Debra Saylor performs "Piano at Twilight" for January 11th 2015 Music at Messiah Classical Concert Series
Give the Gift of Music and mark January 11th on your 2015 Calender.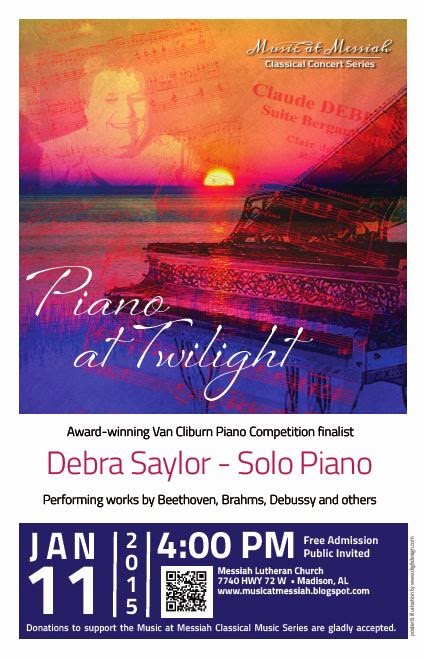 On Sunday, January 11th, Music at Messiah presents pianist Debra Saylor, an award winner at the Van Cliburn Piano Competition for Outstanding Amateurs. The full-length concert from will feature her winning interpretation of Debussy's "Clair de Lune" along with works by Bach, Beethoven and Brahms. The concert is open to the public and will begin at 4:00 pm at Messiah Lutheran Church
on Route 72 in Madison.
Give a gift of music for Christmas. Series sponsorships begin at the $25 dollar level and come with a single line dedication of your choosing. Donating with a dedication is a wonderful way to honor and recognize your loved ones! The Music at Messiah Classical Concert Series is a self supporting series focused on presenting quality live and free classical concert performances to our community. The date for having sponsor forms and advertising artwork in is January 4th. 2015. Forms are available at the Welcome Center desk of Messiah Lutheran Church. www.mlutheran.org
We also offer advertising rates for any area businesses starting at $25.00. Contact us today for more information, details.